China is among the highest contributors to global economic growth in the world. For more than a decade, China has dominated the global trade markets alongside America and Russia. Chinese capitalist market has shown impressive growth since 1978. It has set a strong example of how a growing economy can become a dominant economic power among all. China is the first country that faced the COVID-19 crisis in December 2019. Since then, China has been battling to fight the COVID-19 outbreak with a strong moral principle.
COVID-19 Crisis is an unexpected and unprepared situation that has lead to several serious issues and has affected deeper in several countries. Not only just people affected by this pandemic but also the Businesses and Economy of the whole wold affected. With no vaccine and global slowdown, every sector is facing different difficulties. Indeed, COVID-19 has brought temporary negative impacts on China. But, if you look at the bigger picture, then you will see how China can turn their COVID-19 crisis into long-term profits.
The current situation in China: Negative Impacts
In just two months, China's Investment in Fixed Assets has dropped by 24.5%; Retail Sales have dropped by 20.5%; the value of exports has dropped by 15.9%; industrial production reduced by 13.5%, and Services Production is reduced by almost 13%. All these figures are the fastest contraction that China has seen in the past 30 years!
In addition to that, the unemployment rate of China has risen from 5.2% to 6.2% which means millions of people have lost their jobs during COVID-19 wave. Unfortunately, China's current situation is a live example of what is going to happen to other powerful economies like the US.
China's GDP shrinks: Impact on Global Trading
China might be emasculated die to this COVID-19 as it doesn't have that much fiscal and monetary power to deal with the economic crisis. Already, China suffered from a massive final crisis in 2008. But, Chinese GDP has shown consistent average growth with years. Each year China's GDP rate has improved by 9.5% which is commendable as no other countries have shown such GDP rate increase previously. But, China's GDP grown is now in halt due to the corona outbreak. Already, China's retail sales were down by 20.5% and the value of its overall exports is down by almost 16%. China's imports are now down by 2.4% as most countries have stopped their trading functionalities completely.
Current Situation: A positive side after COVID-19 crisis
After facing the deadly Corona virus for several months, China is now ahead of the other countries that are still struggling to contain the virus spread. China's virus progression curve is now showing a stable picture. Now, China is going back to its normal start. Months after lockdown, people have hit the streets and it seems like China is back in business! In this changing situation, China is turning the odds into profits. Already, China has announced the removal of restrictions like lockdown. Here is an overview of how Chinese businesses are growing like never before after COVID-19 Crisis Outbreak.
The birthplace of Coronavirus:
Wuhan Market is back in business!
The first step the Chinese government took is to reopen the Wuhan Market. It is believed, the Coronavirus spread began from here! Months after lockdown, Wuhan Market is back in the business and is supplying wholesale seafood and live animals across China!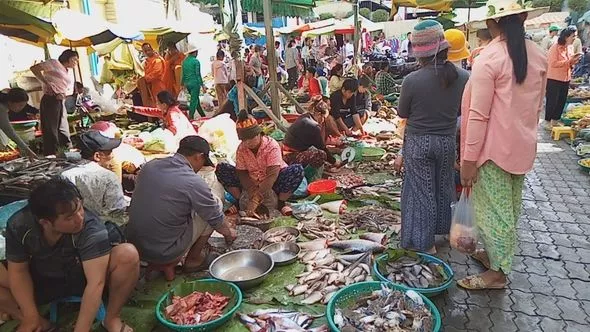 Small factories, local businesses, & stores in the malls are re-opening:
China's domestic demands are slowly gaining positive transactions. Almost 65% of them have started to join the works as the domestic demand for goods and services is increasing. Now, manyfactories, stores in the malls, and local businesses in China are re-opening. Maintaining all precautions, they are operating at least for 5 hours in a day. To everyone's surprise, Apple has re-opened its stores in Mainland China which is proof of how much progress China has made. Now, many malls and restaurants have re-opened, it's clear that the Chinese economy is fighting back!
Chinese export business is booming:
Corona outbreak has taken over the entire world. As a result, make countries like Italy, France, Ireland, etc. are exporting medical aids from China. China is exporting goods to the countries in need. China is now supplying tons of medical equipments, ventilators, COVID test kits, masks, and medicines to many countries in need. In addition to that, China is exporting raw materials, electronic gadgets, and other in-demand products across the world. As a result, China's export business is in high-demand and China is making the most from it!
The domestic financial sector is now open for foreign players:
As per the latest US-China trade agreement, the Chinese domestic finance sector has shown great progress by opening up for the foreign players. So, China is focusing on foreign inflows instead of capital outflows. It is now encouraging global players for foreign investment in China's quality markets and bonds. The sub-sectors of the Chinese finance trade market include banking, credit rating, securities, fund management, insurance, and card payments. Also, China's average household income saving rate is up by 35% which is massive as compared to the UK's rate of 2%.
China is now ruling the Trade Markets:
Due to the Covid-19 crisis, the global stock market is down. In this situation, Chinese investors are buying global shares at cheap rates. The new Chinese economic sectors outperformed to maintain growth-oriented trading for China. Chinese Stocks Market has already beaten the U.S. in the race of survival. Chinese stock market is seeing its best time in many years with a gain of 5% after Covid-19. Already, there is a 50x increase in Chinese data demand.
New Business Opportunities:
During the outbreak even though most of the businesses faced several impacts there are certain businesses for which the outbreak is providing opportunities.
Health care services
Medical care, medical supplies, pharmaceuticals, and health-related services were provided online during the outbreak has not only improved business but also helped people from cross-infection risks. Free online diagnostic services were provided by online medical platforms like Tencent Health care and AliHealth in China. Telemedicine and online medical treatment is stimulated as most prefer common checkups and other treatment from home. Hospitals are willing to make use of this technology and this is expected to gain more popularity shortly.
E-commerce
Fresh food e-commerce is growing explosively. People, in order to avoid getting infected by COVID-19, rely more on the e-commerce platform. Even though e-commerce is not a new hit there are several business and companies in China which have turned themselves available in the online market. Food, daily necessities, health care products and fresh food seems are the most ordered categories and are in demand in the current scenario.
Online Education
COVID-19 Crisis has hugely affected the Education sector. Schools and colleges are closed and will be reopened only when the condition gets better the online education sector is booming. Schools in China have started online classes for students to make up with the academic sessions. Tencent Education of China created Tencent Live Broadcast an online education live port making use of this situation which serves the need of the schools in Wuhan province. Several other software like DingTalk by Alibaba is also widely used by the schools.
Disaster recovery and business continuity plan:
China's economy is in tough times without any doubt. To stabilize the economic growth China needs to ramp up. The government has started its relief measures and it is mainly focusing on the companies rather than individuals. Measures such as tax exemptions, special attention to medium and small scale enterprises with bank loans help in the recovery of the economy.

China is an important player in world trade as its importing and exporting business contributes 40% capital to China's GDP itself. With a stable and positive GDP rate, China is sticking to its disaster recovery and business continuity plan. China's National Bureau of Statistics has said that COVID's impact on China is external, manageable, and short-term. So, China can overcome the situation and maintain its normal Economic progress and development if they follow the disaster recovery plan for the long-term.
It is important to note that this outbreak is both a crisis and an opportunity for all businesses. This condition has bough new needs and some short-term pressure. Every business should make use of the advantage in this disadvantage to survive which will help to gain a larger market in near future. Making use of advanced technology can help to withstand the condition and reduce financial pressure.
Now, many countries are relying on China's virus controlling method "Lock Down". China is successful to stop the virus spread in just 3 to 4 months. As a result, Chinese people are getting the confidence to go out and work! Indeed, China has withdrawn many restrictions from its most affected places to stabilize their economy! Chinese businesses and enterprises are taking measurable precautions to smooth their operational process. People's normal livelihood is completely ensured as the current situation is completely stable.